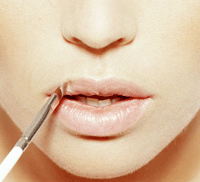 Your lip colour should flatter and liven your complexion. Pale skins should avoid strong, vivid colours which may harden the look.

Dark sin looks exotic with bright, punchy flame-like colours.

Sallow skins should avoid yellow tones like oranges and some browns. Matte lipsticks are no longer in fashion. Glossy lip colours are in vogue.